NEWS
Certificate of Appreciation:
IPhEB Russia | April 2-4, 2019 St. Petersburg:
GLIMPSE OF CPHI (MARCH 12-14 2019), BANGKOK, THAILAND:
GLIMPSE OF IPHEX: NIGERIA, AFRICA
Glimpse of CPHI – 2018 New Delhi: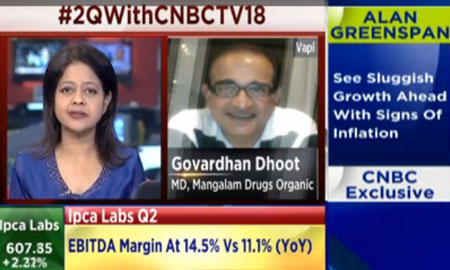 Targetting Rs 300 cr revenue by FY17: Mangalam Drugs
Speaking to CNBC-TV18 Govardhan Dhoot, MD, Mangalam Drugs, said that margins have improved. Revenue growth is on track and it is looking at Rs 300 crore of revenue by end of FY17. We are Hoping for a 10-15 percent growth, he said. "We are focussing on the topline."

Midcap Radar: Govardhan Dhoot MD, Mangalam Drugs
Mangalam Drugs is the worlds largest manufacturer of anti-malarial APIs, Reema Tendulkar and Mangalam Maloo discuss more about with company and its growth outlook for FY16 with Govardhan Dhoot Managing Director of the company



Mangalam Drugs sees 30-40% growth in topline for FY12
In an interview with CNBC-TV18, Govardhan Dhoot, MD, Mangalam Drugs Organic, spoke about the latest happenings in his company and the road ahead.